Protect, Encrypt & License your PHP Scripts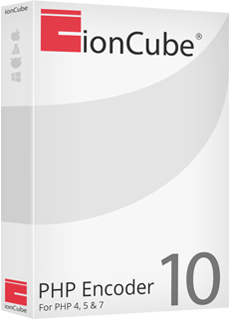 Unique External and Dynamic Keys encryption feature for the ultimate in PHP security.
Encode and run PHP 4, 5.x, 7.1 and 7.2 files.
7.1 and 7.2 encoded files will also run on PHP 7.3.
Compiled Bytecode protection.
Command line plus GUI for Windows and OS X.
Binary code obfuscation.
Optional expiry, domain, IP and MAC locking for effective code licensing.
One time purchase with no annual renewal.
and more...
Discover why ionCube is the leading choice for PHP script protection with a
Free Trial
today.
Hackers exploiting a website flaw to run malware is a common cause of security breach, not prevented by most security tools. ionCube24 is an infosec service that actively prevents running of possible PHP malware before it can do harm, and also provides PHP/JS error reporting and service monitoring to keep aware of faults of outages.
Website Defacement and Malware prevention.
Real-Time detection and management.
Unexpected new or modified files instantly blocked.
Website PHP error alerts.