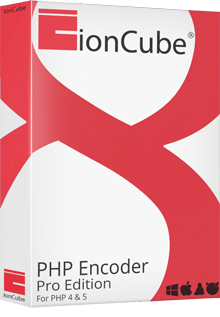 Protect, Encrypt & License your PHP Scripts
Optional Dynamic Keys based encryption for vastly superior code protection compared to alternative solutions.
Support for running files on PHP 7.
Compiled Bytecode protection.
Command line plus GUI for Windows and OS X.
Optional expiry, domain, IP and MAC locking for effective code licensing.
One time purchase with no annual renewal.
and more...
Discover why ionCube is the leading choice for PHP script protection with a
Free Trial
today.
I would like to tell you how pleased I am with your product, I can honestly say, this was money well spent!
ioncube24.com
Protect your website with realtime intrusion protection, alerting of PHP errors and service monitoring using ionCube24
Prevent Website Defacement and Malware.
Real-Time detection. Always watching.
Instant blocking of unexpected new or modified files.
Reporting of PHP website errors when they occur.
Live email alerts.