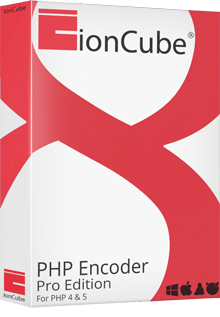 Protect and License your PHP Scripts and Website
PHP 5.6 Language syntax included.
NEW SECURITY FEATURES of JIT decoding plus External and innovative Algorithmic Dynamic keys.
Compiled Bytecode protection.
Windows and OS X GUI.
Binary code obfuscation.
Protect revenue by locking scripts to domains.
No annual renewal required!
and more...
First, let me say, I've been using your encoder for 8 years and absolutely love it!
ioncube24.com
Protect your website with realtime intrusion protection, alerting of PHP errors and service monitoring using ionCube24
Prevent Website Defacement and Malware.
Real-Time detection. Always watching.
Instant blocking of unexpected new or modified files.
Reporting of PHP website errors when they occur.
Live email alerts.