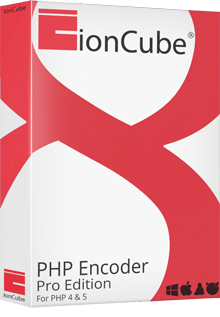 Protect, Encrypt & License your PHP Scripts
PHP 5.6 Language syntax included (new for V9).
Encryption with unique Dynamic Keys™ eliminates stored keys (new for V9).
Support for running files on PHP 7.
Compiled Bytecode protection.
Windows and OS X GUI.
Binary code obfuscation.
Protect revenue with script licensing.
One time purchase - no annual renewal.
and more...
ioncube24.com
Protect your website with realtime intrusion protection, alerting of PHP errors and service monitoring using ionCube24
Prevent Website Defacement and Malware.
Real-Time detection. Always watching.
Instant blocking of unexpected new or modified files.
Reporting of PHP website errors when they occur.
Live email alerts.