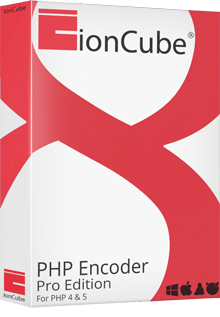 Protect and License your PHP Scripts and Website
UPDATED VERSION 9.0.2 - OCTOBER 2015
PHP 5.6 Language syntax included.
NEW SECURITY FEATURES of JIT decoding plus External and innovative Algorithmic Dynamic keys.
Compiled Bytecode protection.
Windows and OS X GUI.
Binary code obfuscation.
Protect revenue by locking scripts to domains.
No annual renewal required!
and more...
ioncube24.com
Visit our new intrusion protection service to add real time active malware protection to your website.
ionCube24 gives real-time intrusion protection
Prevent Website Defacement and Malware.
Real-Time detection. Always watching.
Instant blocking when a hacker tries to launch an exploit.
Entry point blocked. Root exploit prevented.
Instant alert.