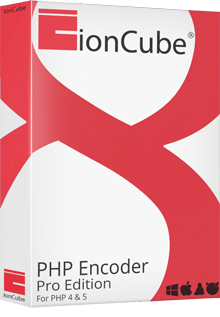 Protect and License your PHP Scripts and Website
NEW VERSION 9.0 - MAY 2015
PHP 5.6 Language syntax included.
NEW SECURITY FEATURES of JIT decoding plus External and innovative Algorithmic Dynamic keys.
Compiled Bytecode protection.
Windows and OS X GUI.
Binary code obfuscation.
Protect revenue by locking scripts to domains.
and more...
ionCube24 gives real-time intrusion protection
Prevent Website Defacement and Malware.
Real-Time detection. Always watching.
Instant blocking when a hacker tries to launch an exploit.
Entry point blocked. Root exploit prevented.
Instant alert.