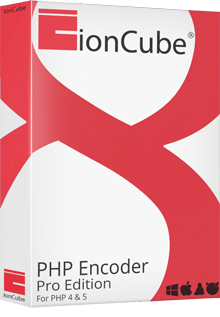 Protect and License your PHP Scripts and Website
UPDATED VERSION 9.0.2 - OCTOBER 2015
PHP 5.6 Language syntax included.
NEW SECURITY FEATURES of JIT decoding plus External and innovative Algorithmic Dynamic keys.
Compiled Bytecode protection.
Windows and OS X GUI.
Binary code obfuscation.
Protect revenue by locking scripts to domains.
No annual renewal required!
and more...
I would like to tell you how pleased I am with your product, I can honestly say, this was money well spent!
ioncube24.com
Protect your website with realtime intrusion protection and alerting of PHP errors using ionCube24
Prevent Website Defacement and Malware.
Real-Time detection. Always watching.
Instant blocking of unexpected new or modified files.
Reporting of PHP website errors when they occur.
Live email alerts.